Updated on November 21, 2012
On 'The Twenty'
I spent five years of college in San Luis Obispo, most of which included surfing everywhere imaginable in SLO County. While my friends and I had plenty of great waves and sessions nearby, it's also a fickle stretch of coastline that lent itself to many, many disappointing drives back and forth to the beach.
So we started to stretch out. Some days, with nothing better to do and knowing the waves were small or the wind wasn't cooperating (which is often in SLO), we'd hop in a car with our boards and just drive. Sometimes we'd go all day, from Morro Bay to Santa Barbara. We found some pretty amazing and weird spots going up and down the coast. This was pre-Google Earth. We just had a AAA map in the glove box to show the way and plenty of free time.
My surfing roommates were from Southern California and my girlfriend was from Santa Barbara, so I started to spend more time exploring everything between Leo Carillo to the south and Gaviota to the north. I logged a lot of time on Hwy. 1 between Santa Barbara and SLO. It's a gorgeous drive once the highway turns along the edge of the land, with numerous pullouts next to the railroad tracks that run alongside the road. Empty paths lead to the cliffs or down to the sand. There was hardly anybody around.
Flash forward 15 years. Me and my old friends get together every fall for an annual surf trip. We're spread out now, so we pick a place to camp along the coast. We meet there, we drink a lot of beer, and we surf as much as possible. For a number of years, we camped at El Capitan State Park and got to know the nooks and crannies that lie within five miles of the park. We stumbled upon a beach called Tajuigas, which seems to be better known as a dive/snorkel spot. Sometimes, it turns out, the waves get good there and there's nobody else in the water (except for when the photo in this post was taken, in 2003). Shhh!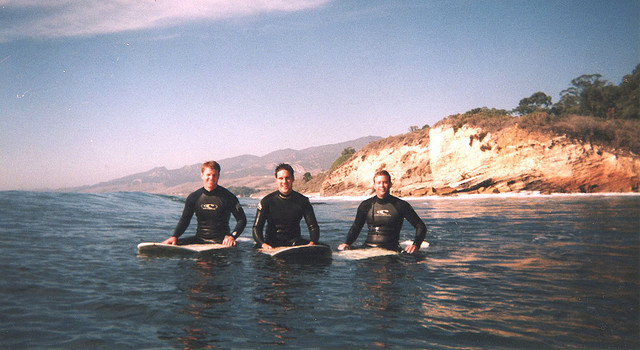 It's amazing that you can still find places like this in Southern California. That's why when I found out about the Surfrider Foundation's effort to create a documentary about the land battles happening on the Gaviota coast, I couldn't help but chip in and help fund The Twenty. It's named after the 20 miles of undeveloped coastline that exists there. It's my first donation to a Kickstarter project. I'm no local of the place, but my son is starting to get interested in surfing, and me and my friends are still camping every year. It has given me so much. This open place needs to be protected so that we can continue to use it and explore its unspoiled beauty. There's no place like it in Southern California, and perhaps the entire state.
Ironically, there has been active oil exploration going on there since the early 1920s, and the oil platforms loom large offshore. It's not uncommon for little globs of tar – natural, or maybe not – to get stuck on your board, wetsuit and feet. It's all a minor annoyance for a visitor, but a reminder that civilization is very much nearby and it is encroaching. It's disturbing to think that the coast could be fully developed, to be turned into more resorts and golf courses, and to really let civilization have their way with the place. Let's hope it stays as pure as possible.