Updated on April 30, 2010
Where Men Win Glory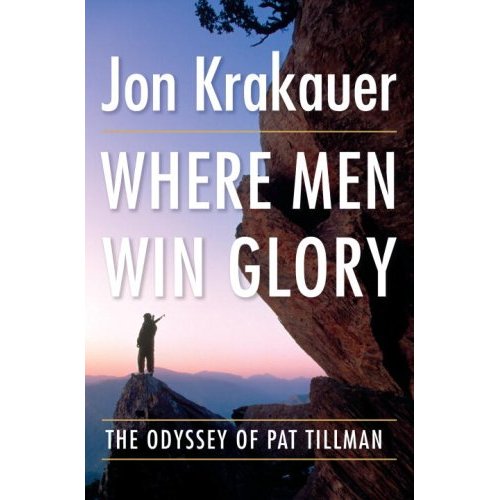 I'm a big fan of Jon Krakauer, mostly because he is what I once aspired to be. I'd still like to be able to research and write the kinds of stories that he tells: complex, non-fiction and incredibly well reported/sourced narratives of adventurous people who are drawn to and ultimately affected by forces larger than themselves.
With each of his books, Krakauer has expanded his range and has gone from stories of wayward youth and outdoorsy tragedy ("Into the Wild," "Into Thin Air") to history and religion ("Under the Banner of Heaven") and now, mainstream news and current events.
I just finally finished his latest book, "Where Men Win Glory: The Odyssey of Pat Tillman." Tillman's life and death was fairly well documented in his/my local San Jose Mercury News, so I felt like I knew the story. Local boy does well in football, makes it to the NFL, 9/11 compels him to join the Army (wha?), he dies tragically (turns out due to friendly fire), his service and death are exploited by a desperate military and Bush Administration, his family fights for the truth surrounding Pat's death and exposes a cover-up that leads straight to the White House. And in the end, I felt terrible for the Tillman family and it simply confirmed that the war on terror was good for just about nothing other than to get Bush re-elected.
Turns out Pat Tillman's story is much more complicated than any of that. I don't think that this is Krakauer's best book by any means (I say it's a toss-up between "Wild" and "Banner"), but perhaps it's because I was already familiar with the story. The first quarter of the book describes Tillman's youth and relies a lot on tales by mother Mary Tillman via her book "Boots on the Ground by Dusk" (which I haven't read). Throughout, Krakauer slowly begins to juxtapose worldwide historical terror events against Pat Tillman's life, which of course culminate on 9/11 and during his rising NFL career with the Arizona Cardinals.
This is where the book gets really interesting, as Krakauer dives deep into Tillman's comprehensive personal diaries and interviews with his then-girlfriend (his eventual wife) Marie and other friends to get inside the character I previously knew as just a high-strung and confused jock. Tillman was much more than that, and the middle of the book reveals some deep and also seemingly contradictory views on religion (Tillman was an atheist), life in the Army (mostly hated it), his penchant to explore and challenge conventional thought (he was a conversationalist and admired Chomsky), and his love for his family and wife (he was constantly torn to leave them for the Army). Tillman passes up lucrative NFL contracts and chances to escape boring, regimented military life simply because he'd given his word and commitment that he would do his three years in the Army, no matter how much he despised it. And he does it with his equally tough brother Kevin, with whom he shares an incredible bond, by his side the entire time.
Krakauer also details other similar and terrible friendly fire incidents in Iraq and Afghanistan, the manipulative faux "rescue" of Jessica Lynch (in which Tillman played a small role) and of course climaxes with vivid descriptions of the events surrounding Tillman's death. The second half of the book is riveting.
Yet some of Krakauer's best writing ever in any of his books comes at the very very end, in the final 10 pages or so where he probably very knowingly slips into a beautiful essay that examines why Tillman died. As a reader, I stopped in my tracks and had to back up and start the section over as it occurred to me where the author was going. Quoting a portion of it would be worthless, because as a whole it's so eloquent — just to get to the end and this part alone makes reading this book more than worth it.
Read it for yourself, Pat Tillman's family, and the country.